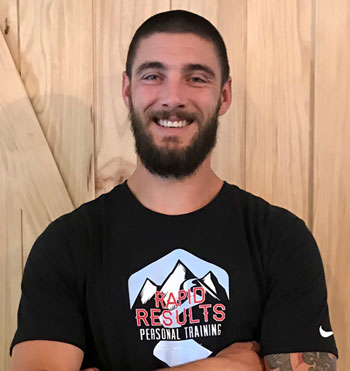 Coach Jeff Conover
BS majoring in Strength and Conditioning, Limestone College 2011

CSCS (Certified Strength and Conditioning Specialist)

Back Pain Specialist (Back Pain Relief 4 Life)

CPR/AED Certified
Jeff grew up in the Wood River Valley and graduated from WRHS in 2007. While at WRHS he played Lacrosse, Football, and Hockey. His senior year he was named captain of all three teams and voted most inspiration for Football as well as a captain of the all star lacrosse game. Jeff has his Bachelors Degree in Science from Limestone College and majored in Strength and Conditioning. He played lacrosse on scholarship for Limestone's nationally ranked NCAA DII program and helped them make appearances to the NCAA Final Four two years in a row. After college Jeff worked at an elite weight loss and back pain facility in South Carolina. He and his wife Abby and their two boys moved back to the valley to open their own training facility. He is happy to be home and can't wait to help his home town locals get into the best shape of their lives and eliminate back pain!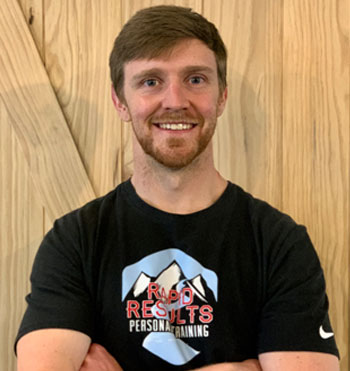 Coach Dustin Royse
BS in Kinesiology from Oregon State

CSCS (Certified Strength and Conditioning Specialist

CFSC Level 1 (Certified Functional Strength Coach)

TRX Functional Training Certified
Dustin grew up in Enterprise, Oregon, a small town in the mountains of 2,000 people. He played football and track growing up and enjoyed snowmobiling in the winter. He attended Oregon State University after high school and graduated with his degree in Kinesiology. While going to school and even a few summers afterwards, he stayed local in Wallowa County and fought wildland fires. He has been a personal trainer for the last two to three years where he gained experience running the fitness program for the firefighters he worked with as well as coaching high school athletes through strength and conditioning and putting on group exercise classes. He is very excited to work for Rapid Results because it seems to be in a similar type area to where he grew up, "I'm excited to be back in the snow, and enjoy the group dynamic side of training, especially when it involves helping people move and feel better as those with a CSCS do. Dustin also has a brother and two nephews in Twin Falls, as well as cousins in Boise and is excited to be closer to family in the area.
​​
Back Pain?
We offer one on one weight loss and  strength training as well as back pain relief training. Coach Jeff is one of 5 people in the world certified to teach this one of a kind back pain program that has helped thousands. If you or a loved one suffer from back pain, book an assesement with us to live pain free for life.
Group Training
Group training is a great way to stay motivated and be held accountable. Our group sessions consist of 5 people or less clients. Each individuals training is completely personalized to their fitness level. We offer 45 group sessions a week for clients to sign up for. Each session is 30 minutes and designed for twice the results in half the time. Who doesn't like saving time and money and getting into great shape in the process? Space is limited for group training so pick up the phone and shedule your free, no obligation fitness assessment today!
Meal Plans & Coaching
Our world class trainers design workouts to help you burn fat all day long even after you leave the gym! You will be coached and motived through every session with trainers correcting your form and telling you what weights to use and exercises to do. Clients are also given a felt melting meal plan. this is not a starvation diet (We are totally against those.) The meal plan is made up of a lot of nutrient dense foods crafted in a way to help you loose inches.